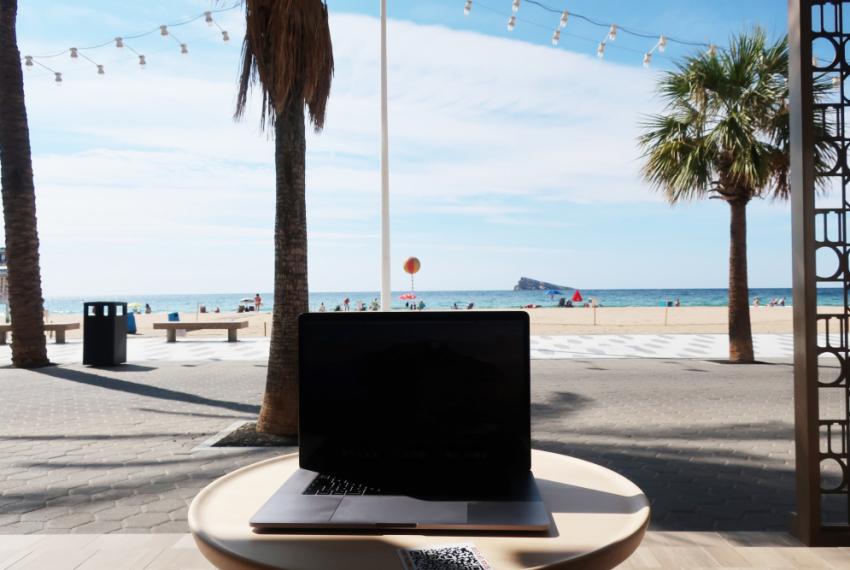 Benidorm welcomes "Digital nomads"
The powerful attraction of the sea and more than 300 days of sunshine a year have made Benidorm, decade after decade, the preferred destination for visitors who the desire is to continue enjoying life.
Benidorm is not only a destination that is attractive to tourists all year round, it is also an ideal place to work. Especially during these days, the city mainly focuses on the national (Spanish) and international (foreign) "digital nomads" who can come to Benidorm temporarily or for a longer period with their "digital office" and / or activities.
Digital nomads are individuals who use the internet to perform their work regardless of the location. They live like a "nomad" by moving and traveling a lot and make use of a flexible way of working.
To attract the digital nomads and homeworkers, the city has made the slogan "Vivir en Benidorm; trabajar desde el paraíso "or" Living in Benidorm; working from paradise '.
Why work in Benidorm?
Safety and well-being
Benidorm has been an ideal place to enjoy Health Tourism. Due to the special microclimate, which is characterized by mild temperatures all year round, and the quality of the beaches.
Benidorm has reopened to visitors with responsible health and safety measures in place. These measures underline the importance of working together to keep residents and visitors safe.
Location and connectivity
Benidorm is located in the region of Valencia and in the province of Alicante, 38 km from Alicante and 106 km from Valencia. Benidorm is one of the main destinations on the Mediterranean and therefore has an excellent connection with the rest of Spain and easy access to other countries.
Sustainability and nature
Benidorm has great environmental conditions thanks to its Sierra Helada National Park and the surrounding areas, as well as 7 km of coastline bathed by the Mediterranean Sea.
Due to its compact city model you can go everywhere by foot or by bike, there is also a wide variety of public transport.
Business and infrastructure
Benidorm offers you the backdrop of idyllic urban beaches and a Mediterranean landscape together with good health care facilities, a solid infrastructure and fast internet connections, which give you the perfect work-life balance.
In Benidorm you will find several workplaces that are equipped with everything you need to work while enjoying a cup of coffee and a tasty lunch. Some nice places are:  Madnes Coffee Benidorm, Urban Beach and Cerveceria L´abadia.