Buy a house in Costa Cálida, Orihuela Costa, Ciudad Quesada
Spain is holiday destination number 1. In the summer of 2017 there is an increase of more than 10% of the number of tourists visiting Spain. Hotels and rental apartments run at 100% of their capacity.
The diversity of the Costa Blanca offers every person the opportunity to spend a wonderful holiday, but more and more people take the step to live in Spain permanently.
There is green, mountainous landscape, golf courses, miles of white sandy beaches, beautiful bays and much more.
Ciudad Quesada is a village built by the Quesada family and borders the large salt lake of Torrevieja and La Mata. Buying a house here is a good investment considering the short distance to the beach (5 km), the golf courses and the beautiful nature reserve. You will find houses, apartments and villas here, mostly built in modern style.
For people who want to have more bars and discotheques in the neighborhood, buying an apartment in Orihuela Costa is also a good option. Here are many beaches with nice chiringuitos (beach bars) and small marinas. Orihuela Costa is best known for its large shopping center La Zenia Boulevard. One of the largest shopping centers in Europe.
In the past two years, many people have also chosen to buy a house on the Costa Cálida. The Costa Cálida is the coast of the province of Murcia. The attraction is mainly the Mar Menor, the sea which is divided by La Manga del Mar Menor, a peninsula with many apartments, hotels and restaurants. Suitable for water sports.
The Costa Cálida is easily accessible via the airport of San Javier, however when the airport Covera is opened, the number of visitors will increase, which will also increase the prices of houses and apartments. Buying an apartment on the Costa Cálida is therefore interesting for people who love their tranquility, but still want to make a good investment in the long term.
Spectacular apartment overlooking the sea, located close to the beach…
New construction
€443.000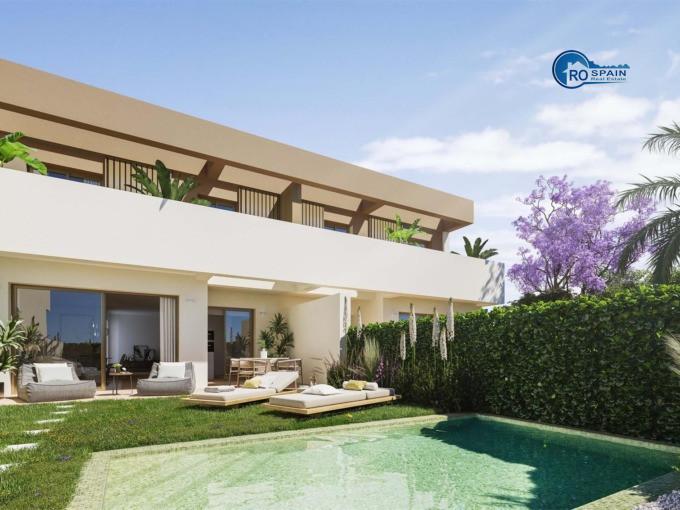 This magnificent terraced house is characterized by its expressive and…
New construction
€460.000
Very luxurious apartments in Rojales, Ciudad Quesada with beautiful sea…
New construction
€369.000