Buy a house in Murcia
Murcia is the province south of the province of Alicante and north of Andalusia. The total province of Murcia has more than 1.5 million inhabitants. The capital of the province of Murcia is also Murcia and has several attractions.
The climate in Murcia is about the same as that of the province of Alicante, with the difference that in the summer it can be a few degrees warmer.
The international airport of Murcia is located in San Javier. This airport is originally a military airport, but at the moment several companies are flying on San Javier.
A new international airport, called Covera, has been built in Murcia. This international airport has already been completed completely, however it has not yet been taken into use. It is expected that this airport will be put into use this or next year. It should then become one of the more important airports with intercontinental flights from Spain.
More and more people are taking the step to buy a house in Murcia or inland or on the beautiful coast. The coast of Murcia is developing rapidly and beautiful villas and apartments are being offered for sale.
Buying a house in Murcia is definitely a good investment because the prices in this region are soaring. This is because more and more people discover this beautiful piece of Mediterranean coast.
The Mar Menor is a large lagoon in the southeast of Murcia, this lagoon is separated from the Mediterranean by a peninsula, La Manga del Mar Menor. This peninsula is 21 kilometers long and the width varies from 100 meters to 1200 meters.
The beaches of the Mar Menor belong to San Pedro del Pinetar, San Javier, Los Alcálzares and Cartagena. The water of the Mar Menor is warm, this is because the maximum depth is only 7 meters.
Buying a house or apartment in San Pedro del Pinetar is reserved for the people who want to have all the facilities nearby but still seek peace at the Mediterranean.
Spectacular apartment overlooking the sea, located close to the beach…
New construction
€492.000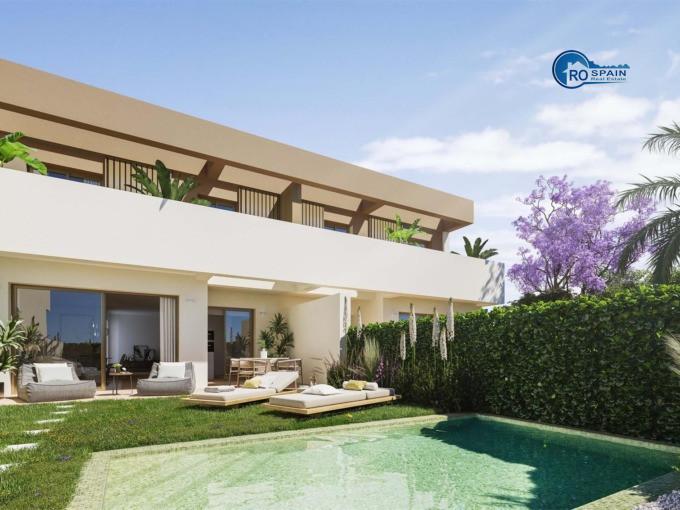 This magnificent terraced house is characterized by its expressive and…
New construction
€500.000
Very luxurious apartments in Rojales, Ciudad Quesada with beautiful sea…
New construction
€369.000