Costa Blanca
The Costa Blanca is located on the southeast coast of Spain and is part of the Comunidad Valenciana. It stretches between Denia in the North and Pilar de la Horadada in the south over a total coastal length of 244 km.
It is a coastal region with beautiful, golden beaches and sheltered bays. The Costa Blanca does not owe its name to the famous beaches, but to the white flowering trees.
The white sandy beaches, interspersed with steep rocks rising from the sea, make the coastline a flourishing whole.
The Costa Blanca has a mild climate. In the summer months it is on average 25 degrees Celsius and in the winter months that average is 10 degrees Celsius. The sun shines abundantly on the Costa Blanca with more than 300 sunny days per year annually and there is a low humidity.
The most precipitation falls in the spring and in the winter. In the winter in the mountain areas above 1500 meters even in the form of snow.
Because of this wonderful climate with mild winters and low humidity of the air, the Costa Blanca is ideally suited for people with joint problems, rheumatism and other disorders. Because of this microclimate and the salt lakes in the south of the Costa Blanca, this beautiful piece of earth is on the list of the 10 healthiest places on earth.
The Costa Blanca North is the part of the Costa Blanca north of Alicante. Recognizable by the mountainous and green landscape and beautiful bays. In the north of the Costa Blanca there are more villas and houses for sale than apartments, with the exception of Benidorm with its skyscrapers.
The Costa Blanca South lies south of Alicante and extends to the province of Murcia. If you want to buy an apartment on the Costa Blanca with sea view, you have a wide choice here at affordable prices.
Spectacular apartment overlooking the sea, located close to the beach…
New construction
€599.000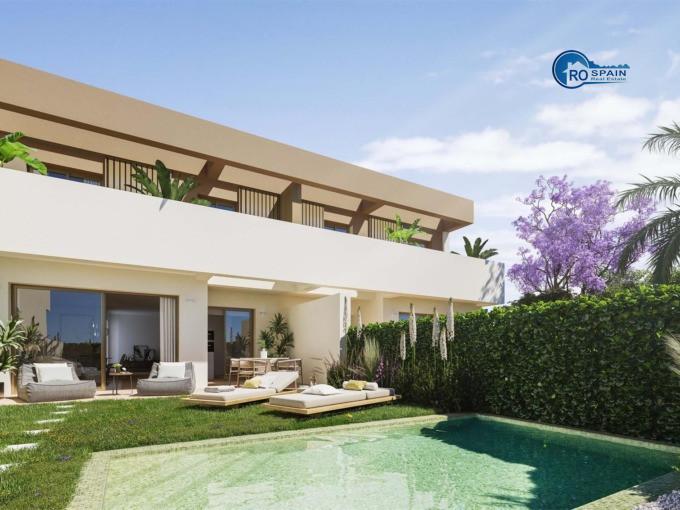 This magnificent terraced house is characterized by its expressive and…
New construction
€500.000
Very luxurious apartments in Rojales, Ciudad Quesada with beautiful sea…
New construction
€369.000